Heron Law Offices is rethinking the intersection between Canadian immigration law and Indigenous communities and pledging resources.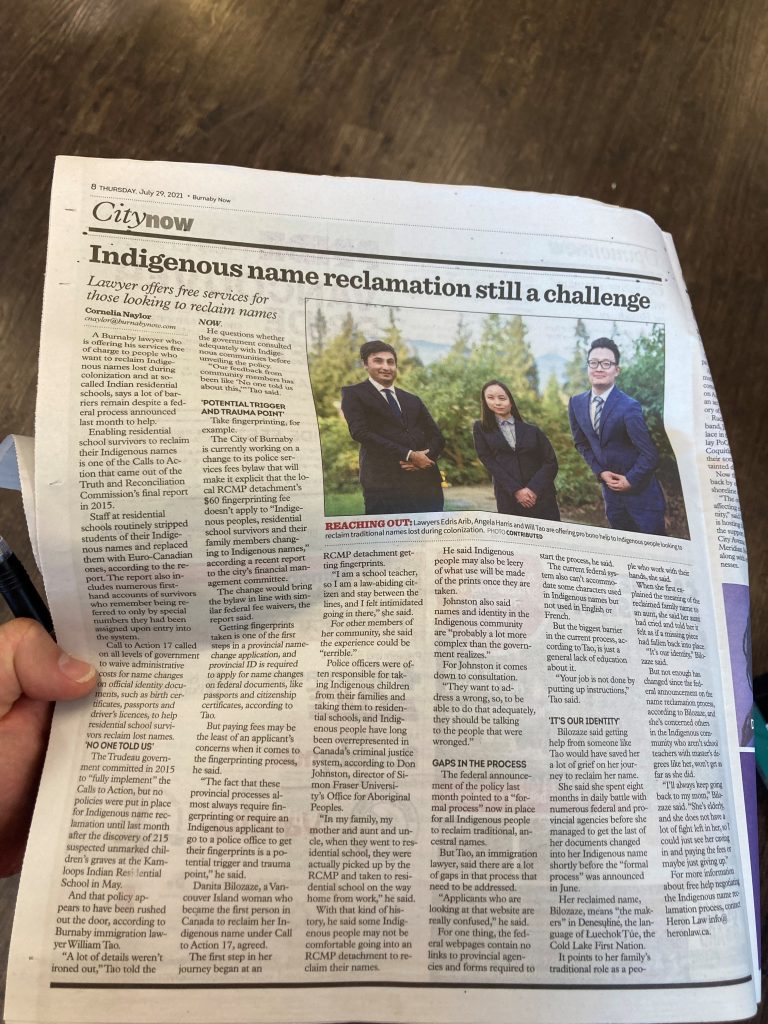 In just three months, we are thrilled to announce we have been able to raise over CDN $3500 for Heron Law Offices' Indigenous Pro Bono/Special Projects.
This fund will be available to cover disbursements arising from our Pro Bono efforts to assist Indigenous persons in reclaiming their traditional name, a research fund to support the full remuneration of Indigenous guests speakers and consultants working on Immigration-Indigenous projects alongside us, Indigenous creatives and artists, and the hiring of the Firm's first Indigenous articling student in Immigration (via a Uniquely-Created Fellowship) in 2023. To date, we have helped (and are continuing to help) over a dozen folks navigate the name change process in B.C. and Ontario. Currently we're in the process of developing a resource guide to further research on the intersections of Immigration and Indigenous law and policy.
Additionally, we are pleased to have also been a financial donor to organizations such as the Urban Native Youth Association and will be allocating funds to support a similar non-profit organization in 2022, with a focus on Indigenous women and youth. Outside of our Firm's own work, we have individually been involved in community and non-profit initiatives, directly connecting with the Indigenous communities and elders from which lands our Firm and our homes are situated. We are bringing forward Indigenous and Immigration issues to the Canadian Bar Association, via a uniquely created Indigenous-Immigration Working Group of the CBA National Immigration Section's Anti-Racism Committee.
Members of our team are also part of non-profit organizations/charities that are looking to bring Indigenous perspectives on issues that impact the 2SLGBTQ+ communities and chairitable funding.
The funds for these initiatives have been raised from Heron's community efforts – including consultative work for community organizations, non-profits, and educational workshops. We thank those who have provided us honorariums in exchange for our time and expertise in Canadian immigration.
We recognize we have a long way to go. Far from patting ourselves on the back, we would be the first to admit that the daily colonial work of serving as a gatekeeper and facilitator to migration on stolen lands, and the business realities of operating a small Firm often take time from and counter our efforts to move forward on our above initiatives. Yet, if our small team of currently three can do it – so can your organizations, of any size. The bottom line is no longer an acceptable excuse for our profession's inaction on the single, most important issue of our collective existence.
We pledge to focus and build this area in the remainder of 2022 and welcome stakeholders and partners to contact us to collaborate or request funding for your Indigenous/Immigration initiatives. Please email us at info@heronlaw.ca.